Mangalam Research Center's Vision
The vision of Mangalam Research Center for Buddhist Languages (MRC) is to create a body of knowledge that facilitates the translation and transmission of the Tibetan Buddhist written tradition and classical languages into English.
MRC has developed 3 core strategies to accomplish this vision (Expand each to view):
[su_spoiler title="Research into the terminology of the Buddhist tradition, classical languages and translation." icon="caret"]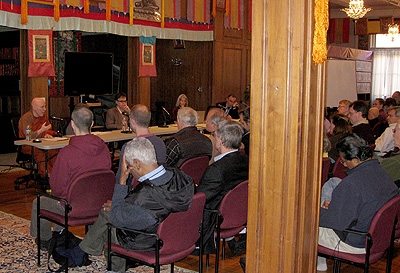 Mangalam Research Center hosts scholars and researchers with the philosophical and philological skills necessary for focusing on the languages of the written tradition and successfully translating Buddhist texts. MRC encourages creative thought and discussion about the language in which Buddhist practices, meditation instructions, and philosophy can be communicated. This focus leads naturally to close cooperation with leading academic institutions around the world.
MRC is also committed to active inquiry into the cultural heritage of the West, so that Buddhist and Western traditions of knowledge can be brought into fruitful dialogue.
[/su_spoiler]
[su_spoiler title="Training scholars in terminological research, the history of Buddhist thought and the science and art of translation to the West." icon="caret"]An essential element of Mangalam Research Center's mandate is to share the fruits of our research with other scholars, students, practitioners and the interested public. We provide language training to make this possible, with a focus on Buddhist terms in both Sanskrit and Tibetan. In addition to our ongoing programs, language classes, conferences and the Post-Baccalaurate Program in Buddhist Languages and Translation Studies (PBL), we often host research associates who help with basic research issues on a full-time or part-time basis, and we have taken steps to create a research-associate program for students who have studied one or more canonical languages as undergraduates and would like to put their knowledge to use in researching the broad field of studies relevant to Buddhist terminology and translation.
[/su_spoiler]
[su_spoiler title="Developing resources to facilitate the transmission of the Dharma to the West." icon="caret"]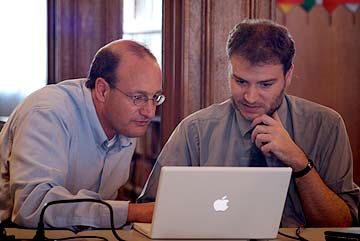 Fundamental to MRC's research orientation is creating an online set of resources, the Buddhist Translators Workbench (BTW). After obtaining an NEH start-up grant, and together with scholars from six institutions and five countries, work on BTW began in the summer of 2010, with a symposium on database applications in the field of Buddhist studies. BTW was designed to support the work of scholars, worldwide, and to promote collaboration and the sharing of information among a global network of scholars and students.
MRC is now integrating BTW with a new tool, the Meaning Mapper, that can be used beyond the field of Indological and Buddhist studies. The Meaning Mapper will be able to assist with the study of any word in virtually any language and context. Work on BTW is an important element in the work of our senior researchers and research associates.
[/su_spoiler]
 Jack Petranker, MRC's Director, explains our Vision:
Transmission to the West
In addition to BTW, MRC is committed to sharing its work in other ways. We will soon publish an online journal and create a Mangalam Imprint for publication of monographs and other works in cooperation with Dharma Publishing, which has its own printing and binding capacities and a 40-year history as a Buddhist publisher.