Mindfulness: What's Next?
Saturday & Sunday, October 7th-8th
The past two decades have witnessed a tremendous burst of interest in "mindfulness." But there are problems. First, mindfulness is often amorphous in its presentation, making it unclear what is really being presented. Second, secular mindfulness is deliberately cut off from its Buddhist roots, where it is part of a holistic model for practice that involves the cultivation of ethics and wisdom. This has led to concern that mindfulness is at risk of becoming just another self-help method rather than a liberatory practice. Also, while many studies have shown mindfulness of all varieties to be of practical benefit in relieving some of the conditions of suffering, conflicting data has also accumulated. Some teachers also worry that a rootless mindfulness may even be harmful when it is practiced without appropriate preparation or supervision. Others are concerned that it can be used to gaslight, placing blame for unhappiness or dis-ease exclusively on the individual without casting a critical eye on external conditions, such as social and economic structures or the climate and ecological crisis.
This conference will gather scholars and Buddhist meditation or mindfulness teachers to address such concerns, evaluate the status of mindfulness practice and teaching today, and discuss where it is headed.
*Please note that this event is fragrance free. For the health of attendees with chemical sensitivities, please refrain from wearing any scented products, meaning no scented or fragranced hair, body, face products including "natural" botanical oils and aromatherapy products, and no clothing laundered with fragranced laundry detergents or dried with softeners such as Bounce. More info and a list of fragrance free products: https://eastbaymeditation.org/resources/fragrance-free-at-ebmc/
Register to attend in-person at Mangalam Research Center (2018 Allston Way, Berkeley, CA) or online with links below.

Saturday: 
9:30am – 9:45am – Welcome &

short opening meditation

 

9:45am – 10:30am –

Erik Braun

, ""Seeing through Mindfulness: The Fortunes of Sati in America"

short break

10:40am – 11:25am –

Ayya Santacitta Bhikkhuni

, "Working with the Elements"

short break

11:35am – 12:25pm –

Donald Rothberg

,  "The Nature of Awakening: Traditional and Contemporary Paths of Awakening"

12:30pm – 2:00pm – lunch break 

2:00pm – 2:20pm Guided practice 

2:20pm – 3:05pm –

Jody Greene

, "'Read a Little Dharma Every Day': Deep Reading as a Contemplative Practice"

short break

3:15pm – 4:00pm –

Nikki Mirghafori

, "The Perils of Impatience for 'Achieving' Not-Self"

4:00pm – 4:30 pm- general discussion &

short closing meditation
Sunday:
9:30am – 9:45am – Welcome &

short meditation

 

9:45am – 10:30am –

Jack Petranker

, "Attention Must Be Paid"

short break

10:40am – 12:10pm –

Mushim Ikeda & Rev. Eli Brown-Stevenson

, "Inclusive Mindfulness for Gen Z & Beyond: Emphasizing BIPOC Youth & People with Disabilities"

12:10pm – 2:00pm – lunch break 

2:00pm- 2:20pm Guided practice 

2:20pm – 3:05pm –

Hozan Alan Senauke

, "The Social Practice of Mindfulness" 

short break

3:15pm- 4:00pm – general discussion &

short closing meditation
Speakers & Topics (in order of appearance):
Erik Braun, "Seeing through Mindfulness: The Fortunes of Sati in America." Mindfulness is often seen these days as our birthright, a natural ability to see things just as they are. Furthermore, to see with—or we might say through—mindfulness is taken to be not just integral to meditation but its very essence, inherently wholesome and liberative. In my talk I will explore how mindfulness has come to be viewed in this way. By examining the development of the Buddhist concept of sati as mindfulness, shifts in the uses of the English term under the influence, especially, of the concept of "bare attention," the reformulations of understandings of mindfulness under the influence of therapeutic modalities such as Mindfulness-Based Stress Reduction, and the recent turn to neurological study, I hope to show how "seeing through mindfulness" undercuts any single characterization of it. Erik Braun (PhD, Harvard) is an associate professor in the Department of Religious Studies at the University of Virginia. He focuses on Burmese Buddhism in the nineteenth and early twentieth centuries, as well as matters related to Pali literature and to globalizing forms of meditative practice. Besides various articles, he is the author of The Birth of Insight: Meditation, Modern Buddhism, and the Burmese Monk Ledi Sayadaw (University of Chicago Press, 2013), a co-winner in 2014 of the Toshihide Numata book prize in Buddhism, and also co-edited with David McMahan the volume Meditation, Buddhism, and Science.
Ayya Santacitta Bhikkhuni, "Working with the Elements." We are participants of this planet and can ask the elements for help, just as the Buddha is on record for touching the Earth on the night of his Awakening. Exploring the true nature of embodied life protects us from getting stuck in outmoded narratives and identities and opens the Path towards greater coherence with reality. Santacitta Bhikkhuni was born in Austria and entered monastic training in 1993, receiving Bhikkhuni Ordination in 2011. She is committed to Gaia as a living being and resides at Aloka Earth Room, currently located in SanRafael, CA. (Please find a longer bio here).
Donald Rothberg, "The Nature of Awakening: Traditional and Contemporary Paths of Awakening." The Buddha's teachings about awakening point to two processes: (1) We are mindful of and work through greed, hatred, and delusion; and (2) we also develop those qualities which both support and manifest awakening. We see further how the Buddha at times identified the deep nature of awakening as "signless, boundless, all-luminous," and trace similar accounts of "awakened awareness" in the Thai Forest tradition and Tibetan Dzogchen and Mahāmudrā. Then I ask the question about whether these wonderful teachings and associated practices are sufficient for awakening in the contemporary world. I point to how such teachings and practices are crucial but also need to be complemented by and integrated with a contemporary map of awakening, particularly identifying forms of contemporary conditioning that are not identified in the traditional account, especially two inter-related broad areas—one identifying more "psychological" conditioning, and a second more "social" conditioning (for example, around gender, race, sexual orientation, age, etc.). Donald Rothberg, Ph.D., is a member of the Teachers Council at Spirit Rock Center, a guiding teacher for the Marin Sangha, and a regular teacher at the East Bay Meditation Center in Oakland, California, Southern Dharma Retreat Center, InsightLA, and New York Insight. He teaches retreats and groups on concentration and insight meditation practice, lovingkindness practice, transforming the judgmental mind, mindful communication, working skillfully with conflict, and socially engaged spirituality, and is the author of The Engaged Spiritual Life: A Buddhist Approach to Transforming Ourselves and the World, and the co-editor of Ken Wilber in Dialogue. He has practiced insight meditation since 1976, and has also received training in Tibetan Dzogchen, body-based psychotherapy, and trauma work.
Jody Greene: "'Read a Little Dharma Every Day': Deep Reading as a Contemplative Practice." Reading as a sacred or contemplative practice is rarely discussed and almost never taught. Yet the practice of deep reading, once demystified, has the potential to stabilize the mind, strengthen concentration, and help us to grow in wisdom. Shōgen Jody Greene has practiced in the Zen tradition since 2001, primarily at Tassajara Zen Mountain Center. They have taught meditation, yoga, and a range of contemplative practices at Tassajara, Esalen, San Francisco Zen Center, and in Ladakh, India. They serve as Associate Campus Provost for Academic Success and Professor of Literature at UC Santa Cruz.
Nikki Mirghafori, "The Perils of Impatience for 'Achieving' Not-Self." In the popularization of the mindfulness movement, non-dual states of not-self and emptiness, as well as deep states of concentration known as jhanas have become coveted by many young and ambitious practitioners who have not yet developed psychological maturity through patient practice. A culture that equates liberating insights with "achievements," especially combined with the use of psychedelics, can lead to disastrous outcomes for many. Dr. Nikki Mirghafori is an Artificial Intelligence scientist and an internationally recognized Buddhist teacher. She serves as a Stewarding Teacher at Spirit Rock Meditation Center, where she is also on the Board of Directors, and a Dharma Teacher at the Insight Meditation Center in Redwood City, CA. She is of Persian heritage, an advocate for wisdom and compassion in daily life, as well as ethical AI in our zeitgeist.
Jack Petranker, "Attention Must Be Paid." An essential question in any mindfulness practice is this: "Mindful of what?" The obvious answer—mindful of whatever events arise in the stream of consciousness—skips over the fact that in our daily experience we inevitably make choices about where to place our attention, always excluding some possibilities in advance. Often, we exclude other people and the environing world. I will suggest that they too require mindful attention. Applied to the public realm we inhabit, this means being fully present to others, and allowing others to be fully present as well. Jack Petranker, MA, JD is senior teacher at the Center for Creative Inquiry and Director of the Mangalam Research Center, and former Dean of the Nyingma Institute. He developed Full Presence Mindfulness as a secular approach to de-centering the self.
Mushim Patricia Ikeda and Rev. Eli Brown-Stevenson, "Inclusive Mindfulness for Gen Z & Beyond: Emphasizing BIPOC Youth & People with Disabilities." The Next Generation of the Mindfulness Movement will be younger Millennials and Gen Z and will more fully include Black, Indigenous & People of Color (BIPOC) and people with disabilities. Join us for a peek into the Inclusive Future of Mindfulness with two experienced teachers who are also Diversity, Equity, Inclusion & Belonging professionals. Mushim Patricia Ikeda is an internationally known justice activist-centered mindfulness and Buddhist teacher based in Oakland, California in the U.S. She is particularly recognized for work with BIPOC (Black, Indigenous and People of Color) communities, justice activists, and people with disabilities. Mushim is one of several core teachers at East Bay Meditation Center. More info: www.mushimikeda.com. Rev. Eli Brown-Stevenson is a resident priest at Beginner's Mind Temple and currently serves as the Director of Diversity, Inclusion and Belonging at San Francisco Zen Center. In addition to his work at SFZC, Eli loves to contribute his warm service to the communities around him. He offers mindfulness to BIPOC grade school children, also local highschools and a group for young adults called Young Urban Zen. His heart is deeply propelled by the communities he is part of and helping make practice accessible for all.
Hozan Alan Senauke, "The Social Practice of Mindfulness." Commonly mindfulness is taught as a self-oriented practice generating peaceful awareness. But, as Thich Nhat Hanh writes, "Mindfulness must be engaged. Once there is seeing, there must be acting. Otherwise, what is the use of seeing?" How can we use mindfulness as a tool for social transformation? Hozan Alan Senauke is abbot of the Berkeley Zen Center, in the tradition of Shunryu Suzuki Roshi. He is also founder of the Clear View Project, providing Buddhist-based training and support to communities in need around the globe. Hozan's latest book is Turning Words: Transformative Encounters with Buddhist Teachers (Shambhala, 2023).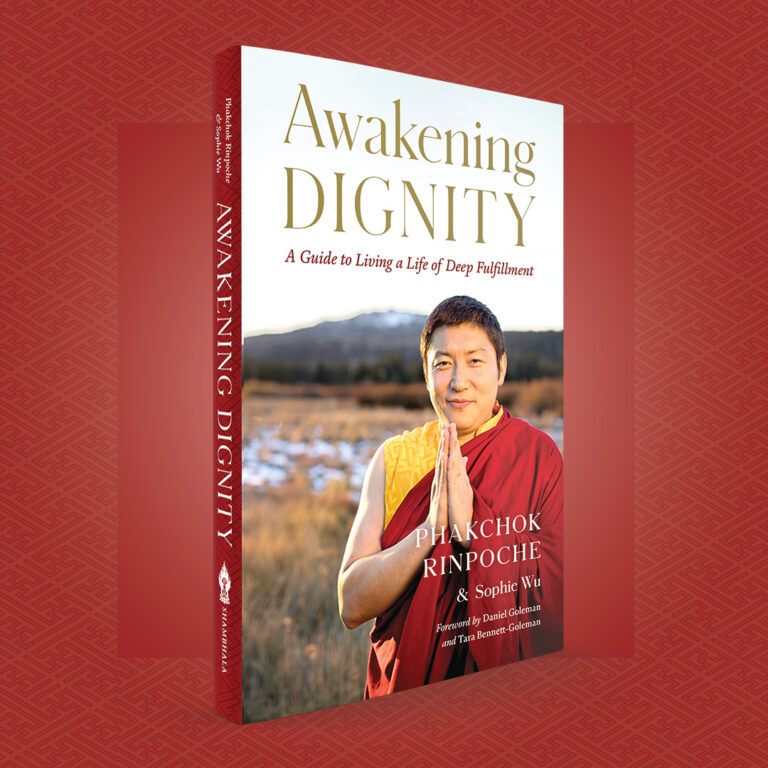 The Power of Awakening Dignity with Phakchok Rinpoche
Sunday, March 12, 1-2:30pm
In this talk, Phakchok Rinpoche draws from the Tibetan Buddhist tradition to provide a fresh understanding of dignity as the power that arises when we know decisively that our nature is pure. By aligning ourselves with our intrinsic buddha-nature, we gain confidence that enables us to examine our faults and change our behavior. At the same time, we grow in compassion and wisdom, so that we are better able to focus our energies on the welfare of others. In this way, the power of awakening dignity provides limitless benefits, both individual and collective. More information at www.awakeningdignity.org.
Phakchok Rinpoche belongs to a new generation of Tibetan Buddhist masters born and educated outside of Tibet. The grandson of Urgyen Tulku and son of Chokling Rinpoche, he is equally at home in contemporary Western culture and ancient wisdom traditions. His teachings are unusually accessible and relatable to our everyday lives and concerns.
This event will be held in person at Mangalam Research Center, 2018 Allston Way in Berkeley, California. It is free and open to the public, but we request that you register in advance with the link below.