Archive, 2020-2021 Academic Year
This monthly lecture series is devoted to bringing the latest research in the academic study of Buddhism to a larger audience. While the academic study of Buddhism draws on an array of methods and perspectives that can complement, enrich, and inspire Dharma practice, it can be difficult to access and engage for non-specialists. This series aims to bridge that gap by bringing academic scholars and Dharma practitioners together in conversation, giving scholars the opportunity to present their work with a non-specialist audience in mind, and the audience an opportunity to ask questions and offer their reflections on the presentation. 
The series is hosted by Karin Meyers, Academic Director of Mangalam Research Center.
Can Yogic Power Be Modern? Miracles, Modernity, and Secularism in Tibetan Buddhist Accounts of Yogic Display
Dr. Annabella Pitkin
Thursday, May 13, 2021
For many Tibetan and Himalayan Buddhists, accounts of yogic power are familiar from the life stories of famous Buddhist practitioners. Yet stories about yogic power – sometimes described as "miracles" in English – can raise challenging questions for present-day Buddhist audiences. One especially thorny question is how stories about yogic power fit with the categories of secularism, rationalism, and modernity that are so influential within contemporary international knowledge systems. We could ask, what kind of power is yogic power? How does it relate to our understandings of the natural world, and the social, political, or ethical meanings we give to those understandings? This talk explores some of the ways that Tibetan Buddhist thinkers and intellectual traditions have approached these questions. In particular, I examine Tibetan Buddhist challenges to the idea that a "miracle" must disrupt the laws of nature. I look at Tibetan Buddhist critiques of the view that there is something inherently irrational or non-modern in talking about yogic power, and examine what alternative accounts of yogic power might look like. Finally, I discuss some pointed criticisms that Tibetan Buddhist writers make of misleading or manipulative uses of the concept of yogic power, as a way to explore the ethical stakes of yogic display.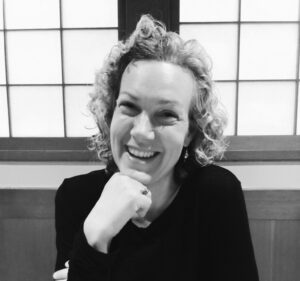 Annabella Pitkin (she/her) is Assistant Professor of Buddhism and East Asian Religions at Lehigh University in Pennsylvania. She researches and writes about Tibetan and Himalayan Buddhist social history, literature, and intellectual traditions, focusing on themes of modernity, renunciation, and yogic display.
Rethinking the Human/Animal Divide in Buddhist Ethics and Cosmology
Dr. Geoffrey Barstow
Thursday, April 29, 2021
At the heart of many issues in animal ethics lies a question about what, exactly, is the difference between a human and a non-human animal. Buddhism has opinions on this question, generally suggesting that while there is no rigid, categorical division between human and non-human animals, humans nonetheless enjoy significantly higher status. Buddhists have usually explained this elevated status by claiming that we are more intelligent than animals, and therefore are able to use our human lives to advance religiously. Animals, with their inferior intelligence, are not able to do so and have, therefore, a much lower status than humans. This view of animal intelligence, however, is now being challenged by several decades of scientific research on animal cognition.  We're now learning that many animal species are actually quite intelligent, with advanced reasoning abilities, emotional complexity, and, tantalizingly, even hints of religious or spiritual subjectivity. In this talk, I argue that this emerging evidence requires Buddhism to re-evaluate its position on the human / animal divide.  Rather than categorically insisting on human superiority over animals, we should approach animals with compassion based on a complex awareness of their cognitive and emotional lives.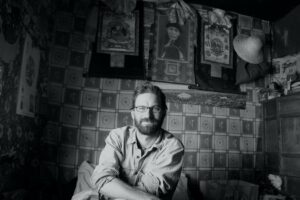 Geoffrey Barstow (he/his) is an Assistant Professor of Religious Studies at Oregon State University. His research focuses on vegetarianism and animal ethics in Tibet. He is the author of Food of Sinful Demons: Meat, Vegetarianism and the Limits of Buddhism in Tibet (2017) and the editor of The Faults of Meat: Tibetan Buddhist Writings on Vegetarianism (2019).
Can Places Transform People?: Place, Materiality, and Agency in Tibetan Buddhist Pilgrimage
Dr. Kate Hartmann
Thursday, March 18, 2021
Pilgrimage seems by all accounts to have been widely practiced across Tibet since at least the 13th century, but that does not mean that Tibetans unanimously approved of it. Throughout the written record, Tibetan Buddhist writers highlight the dangers of pilgrimage, argue that it is pointless, or suggest that real practice does not require travel to faraway places. Behind these critiques stands a central question: are practices that engage the external, material landscape worthwhile, or is it better to focus on internally directed practices like meditation or philosophy? Some Tibetan thinkers argued that certain places have the power to grant blessings, merit, or realizations to even the most mindless pilgrim. Others argued that the benefits of pilgrimage–if there were any–depend entirely on the pilgrim's faith and mental outlook. This talk traces these debates, and suggests that the more extreme views notwithstanding, most Tibetan thinkers from the 13th through 19th centuries did not attribute the benefits of pilgrimage to the pilgrim or place alone, but to a relational network of factors that included the pilgrim's faith, the material nature of the site, the holy masters who had visited the site in the past, supramundane beings who live there, the ordinary appearance of the site, and the pilgrim's cultivated vision of the site. In other words, material places do not exert independent agency, but have special powers or 'blessings' that can be activated by the pilgrim's participation in a complex relational network.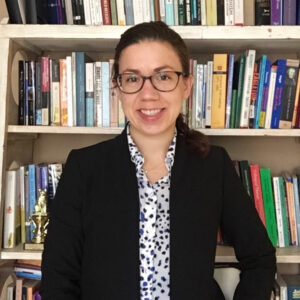 Kate Hartmann (she/her, Ph.D., Harvard University 2020) is Assistant Professor of Buddhist Studies at the University of Wyoming. Her engagement with Religious Studies arises out of a longstanding interest in religion as a force that shapes the way we perceive the world, and in the practices religions develop to transform that perception. Her current research focuses on the history of Tibetan pilgrimage to holy mountains and the goal of cultivating pure perception of the sacred landscape.
Beyond Perfection: King Ashoka, Engaged Buddhism and Dharma in Ancient India (Currents series)
A Conversation with Sonam Kachru
Thursday, January 21, 2021
In the introduction to his book, The Buddha and his Dharma, the Indian scholar, politician and social reformer, B. R. Ambedkar entertained Buddhism's future in modern India with the help of a question: "What was the object of the Buddha in creating the Bhikkhu? Was the object to create a perfect man? Or was his object to create a social servant devoting his life to service of the people and being their friend, guide and philosopher?" In this conversation we shall explore this question by examining the remarkable legacy of the ancient Buddhist king, Ashoka Maurya, whose experiments in moral leadership, as represented in the archeological record and Buddhist narratives, reveal the pro-social implications of Buddhist ethical and contemplative practices, and remain a powerful lens to think through the contested place of Buddhism in a political world.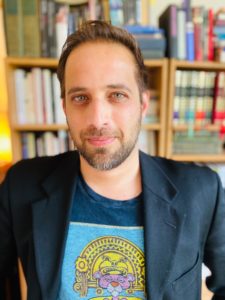 Sonam Kachru is an Assistant Professor in the Department of Religious Studies at the University of Virginia. His work centers on the history of philosophy in ancient South Asia, with a particular emphasis on Buddhist philosophy and literature. His first book, Other Lives: Mind and World in Indian Buddhism, is forthcoming with Columbia University Press.
Resisting Settler Colonialism as Buddhist Allies to Indigenous Peoples (Currents series)
A Conversation with Natalie Avalos
Friday, October 23, 2020
Contemporary Indigenous movements for sovereignty, like Standing Rock in 2016, have highlighted the ongoing violence settler colonialism perpetuates against lands and peoples. In this talk, I'll discuss how Buddhists can draw from Buddhist teachings and shared land-based ethics to stand in solidarity with Native and Indigenous peoples. By connecting the dots between settler ideologies, the dispossession of peoples/lands, and ecological harm, I'll outline the ways Buddhist praxis can facilitate decolonial praxis. This will give us an opportunity to explore how Buddhist scholars and practitioners may use this period of quarantine and intersecting crises to mobilize in the service of ecological wellness and collective liberation.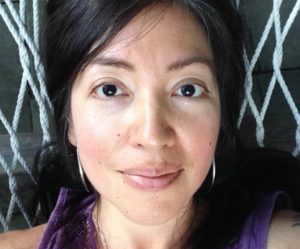 Natalie Avalos is an Assistant Professor in the Ethnic Studies department at University of Colorado Boulder. She is an ethnographer of religion whose research and teaching focus on Native American and Indigenous religions in diaspora, healing historical trauma, and decolonization. She received her Ph.D. in Religious Studies from the University of California at Santa Barbara with a special focus on Native American and Indigenous Religious Traditions and Tibetan Buddhism and is currently working on her manuscript titled The Metaphysics of Decoloniality: Transnational Indigeneities and Religious Refusal, which explores urban Indian and Tibetan refugee religious life as decolonial praxis. She is a Chicana of Apache descent, born and raised in the Bay Area.