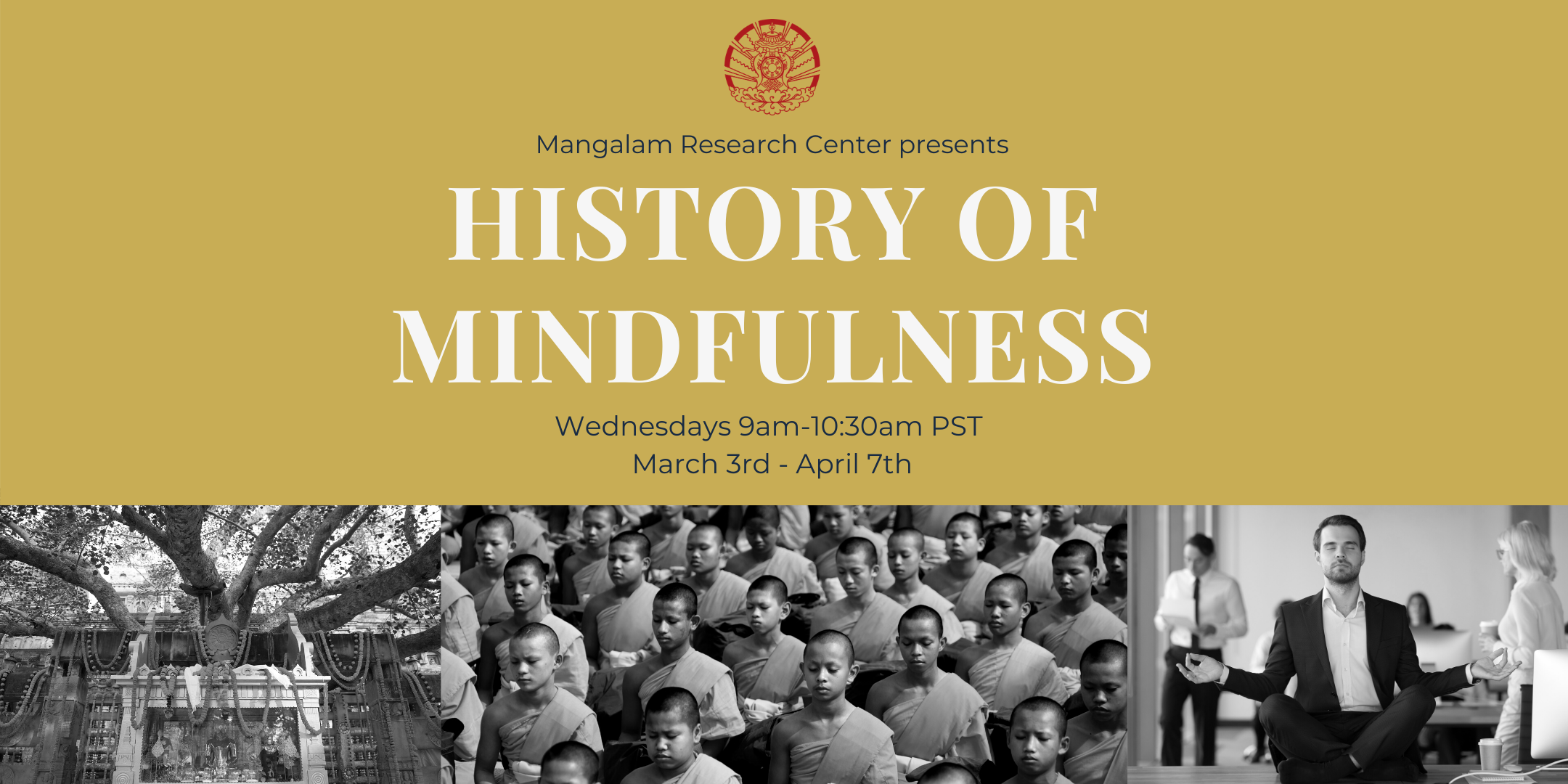 History of Mindfulness
Description: This course will explore the historical and theoretical transformation of mindfulness (sati, smṛti) from presentations in the Pāli Canon, Abhidharma, and Mahāyāna traditions (Tibetan and Zen) to modern Buddhist and secular practices and applications. The first three weeks of the course will consider the multiple ways mindfulness functions as a mental factor in classical Buddhist theories of mind, meditation, and the path. Next, we will trace the emergence of the modern mindfulness movement from its roots in colonial and postcolonial Asian Buddhisms to contemporary Buddhist understandings and secular applications in the West. This course should be of interest to any student of Buddhism or mindfulness interested in a deeper understanding of the historical and theoretical roots of mindfulness.
Structure of the course: Each week students will receive a narrative summary of contemporary scholarship on the topic, recommended readings, and an annotated bibliography for further self-study. Classes will include ample time for discussion. Some weeks may include a supplemental video/audio lecture or additional optional sessions for answering questions. All sessions will be recorded and made available to registered students.
Preparation: Prior familiarity with mindfulness practice (any variety) is recommended.
Wednesdays, 9am-10:30am Pacific Time on Zoom.*
March 3 – April 7, 2021.
*If a number of students would like to meet in the evening Pacific Time, it might be possible to arrange a second section. Contact the instructor, Karin Meyers  karinm@mangalamresearch.org with any questions.
Cost: $160.
Scholarships are available for this course. Please write Karin at karinm@mangalamresearch.org to inquire.
Speaker
Karin Meyers

Academic Director

Karin received a PhD with distinction from The University of Chicago Divinity School in 2010, and since then has taught Buddhist Studies at several colleges and universities in the US and abroad, including Kathmandu University and Rangjung Yeshe Institute's Centre for Buddhist Studies in Nepal, where she directed the masters program in Buddhist Studies until returning to the US in 2017. Karin's scholarly work focuses on bringing Buddhist perspectives to bear on cross-cultural and interdisciplinary inquiry into fundamental metaphysical, epistemological, and ethical questions. Karin has practiced Buddhism in Tibetan and Theravāda traditions and took a year in 2019 to serve as retreat support fellow at the Insight Meditation Society in Barre, MA. Before attending graduate school she worked at the Buddhist Peace Fellowship in the Bay Area and has recently returned to these socially engaged roots, promoting Buddhist activism in regard to the accelerating climate and ecological crisis.

As Academic Director, Karin will develop and teach Buddhist Studies courses in Mangalam's residential and public programs; host public talks, conversations and conferences with academic scholars of Buddhist studies and related fields; and contribute to Mangalam's publications and language programs, offering occasional courses in Pali, Sanskrit and Tibetan. Her mission is to help make scholarly research and classical Buddhist traditions accessible to Dharma practitioners, and to draw on these resources to support and inspire socially and ecologically engaged Buddhist thought and practice.