History of MRC: Building on a 40-Year Record of Accomplishment
The Mangalam Research Center for Buddhist Languages (MRC) traces its roots to India in 1962, when exiled Tibetan lama Tarthang Tulku, trained by some of the most renowned masters of the Tibetan Buddhist lineage, founded Dhar­ma Mudranalaya to print texts in the Tibetan language.
Founding Origins
In 1968, Tarthang Tulku relocated to America and founded the Tibetan Nyingma Meditation Center (TNMC), a Buddhist church, and re-established Dharma Mudranalaya, dba Dharma Publishing, to print religious texts. Today, Dharma Publishing has produced more than 20 Buddhist translations and over 100 titles in English. These titles in turn have been translated into 18 different languages.
In 1972, the Nyingma Institute was established in Berkeley. The Institute has offered classes and programs designed to introduce Buddhism to the Western world to well over 100,000 people.
In 1981, Dharma Publishing produced the Nyingma Edition of the Tibetan Buddhist Canon in 120 volumes.
In 1983, an eight volume Research Catalog and Bibliography of the Canon was published.
In 1989, the Yeshe De Text Preservation Project, a sis­ter organization of Dharma Publishing, began distributing typeset Tibetan texts to Tibetan schools of higher education in exile, temples, and practitioners.
In 1991, Great Treasures of Ancient Teachings, the first-ever compilation of works of the Nyingma school of Tibetan Buddhism, was published in 627 atlas-sized volumes.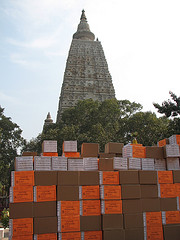 Book Distribution at Bodh Gaya, India
Birth of MRC
The founding of MRC was a logical next step in this forty-year history.
In 2008, TNMC acquired a 26,000 sq. ft. building in downtown Berkeley, California, a century-old landmark.
In 2009, the new building, renamed Mangalam Centers, officially opened its doors and became the home of the Mangalam Research Center for Buddhist Languages. The first symposium, Reinventing the Wheel, was held in November with prominent scholars from three continents gathering to offer support for MRC.
MRC Today
MRC is recognized by the international academic community as a serious, unique, and valuable institution in the field of Buddhist studies. This is due to its status as part of a larger organization with well-established and highly successful programs for the promotion, study, and preservation of Buddhist teachings and texts and MRC's commitment to working with the Western scholarly community. It reflects MRC's single-minded focus on the language of Dharma transmission and on developing the resources and knowledge that support this focus.
MRC received institutional support from TNMC, through a one-time grant of $500,000 to begin operations. MRC has been able to draw on an institutional culture shaped by traditional Buddhist values, which means that most of its staff, including its Director and Chief Operating Officer, donate their services without charge. Many factors, including the generous cooperation of renowned scholars, have led to a remarkable record of accomplishment in the short history of MRC.
Support Our Work
To support our work, MRC actively seeks additional sources of funding. To date, we have been awarded three grants from the National Endowment for the Humanities and a grant from the John Templeton Foundation, in addition to receiving generous private donations.